Holiday Fruitcake

30 servings
Comes Thanksgiving I can hardly wait for my fruitcake. Most of the ones you buy have booze in them so this recipe is really great to have. Unfortunately, mincemeat is usually available only around the holidays.

2 1/2 cups unsifted flour
1 teaspoon baking soda
2 slightly beaten eggs
1 28 oz. jar None Such
Ready-to-use mincemeat
1 14 oz. can Eagle Brand sweetened
low-fat condensed milk
2 cups candied fruits
1 cup walnut or pecan pieces

Preheat oven to 300°. Grease and flour a 10-inch Bundt cake pan.

Combine flour and baking soda and set aside.

In a large bowl, combine remaining ingredients; blend in flour and baking soda mixture. Pour batter into prepared Bundt pan.

Bake for 90 minutes until wooden toothpick comes out clean. Cool 15 minutes then turn out onto a rack. Garnish as desired



Nutrition Facts
Amount Per Serving: Calories 190 - Calories from Fat 28
Percent Total Calories From: Fat 15%, Protein 7%, Carbohydrate 79%
Totals and Percent Daily Values (2000 calories): Fat 3g, Saturated Fat 0g, Cholesterol 16mg, Sodium 106mg, Total Carbohydrate 37g, Dietary Fiber 1g, Sugars 18g, Protein 3g, Vitamin A 68 units, Vitamin C 1 units, Calcium 4 units, Iron 2 units

---

4 points

Bon appetit!
---
Fruitcake Recipe (A Joke)

1 cup water
1 cup sugar
4 large eggs
2 cups dried fruit
1 teaspoon baking soda
1 teaspoon salt
1 cup brown sugar
lemon juice
nuts
1 gallon whiskey

Sample the whiskey to check for quality. Take a large bowl.
Check the whiskey again to be sure it is of the highest quality.
Pour one level cup and drink. Repeat.

Turn on the electric mixer; beat 1 cup butter in a large, fluffy
bowl. Add 1 teaspoon sugar and beat again.

Make sure the whiskey is still OK. Cry another tup.

Turn off mixer. Break 2 legs and add to the bowl and chuck in the
cup of dried fruit. Mix on the turner. If the fried druit gets
stuck in the beaterers, pry it loose with a drewscriver.

Sample the whiskey to check for tonsisticity. Next, sift 2 cups
of salt. Or something. Who cares? Check the whiskey.

Now sift the lemon juice and strain your nuts. Add one table.
Spoon. Of sugar or something. Whatever you can find.

Grease the oven. Turn the cake tin to 350 degrees. Don't forget
to beat off the turner. Throw the bowl out of the window.

Check the whiskey again.

Go to bed. Who the hell likes fruitcake anyway?


Dear Santa, I can explain!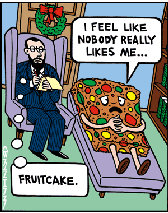 Barricks Insurance Services

Barricks Insurance Services
276 N El Camino Real #6, Oceanside, CA 92058
Phone: (310) 678-6315
©1995 Barricks Insurance Services. CA License #0383850